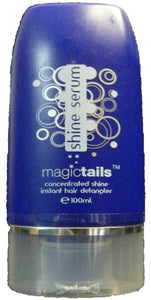 Magic Tails Shine Serum
Magic Tails - Shine Serum - 100ml
Magic Tails range for Horses, Dogs and is also safe for use on humans.
Use a very small amount, apply through a damp coat and then use a blower to dry.
Magic Tails will keep soft coats from tangling until the next wash.
Gives lasting shine, detangles, reduces static, deep conditions, long lasting results, repels dirt, dust and grim, and is non-oily.
RRP - $19.95