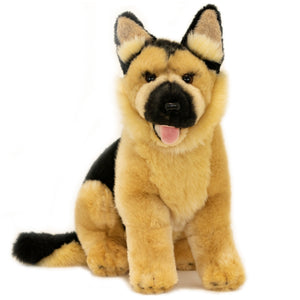 Plush Toys - Sargeant
Sargeant is a really cute realistic small-sized german shepherd plush toy and is handmade and airbrushed soft stuffed animal.
The breed was officially known as the Alsatian until 1977 when its name was changed back to German Shepherd.  The German shepherd is a common breed used as a police dog (also known as a K-9 or K9 dogs).  These dogs are specifically trained to assist police and other law-enforcement personnel and are excellent in searching for drugs and explosives, locating missing people, finding crime scene evidence, and attacking people targeted by the police.
Sargeant measures 24cm/9.5″ in height to the top of head, 21cm/8″ in length without tail or 27cm/10.5″ with tail and 13cm/5″ in width
Excellent gift for the lover of the german shepherd
Comfort therapy toy for patients with Dementia
The perfect companion for lonely seniors and residents in aged care.
Lifelike replacement for a pet that has been lost
Substitute emotional support animals provide comfort for people suffering from stress, anxiety, depression, PTSD, Autism, and other mental health challenges.
Great as an educational toy for this iconic K9 police dog
Can be brushed using a regular pet brush
Made using the highest quality acrylic fur
Made using 100% recycled stuffing
Eco-friendly
Ocean-conscious
Machine washable using chemical/soap-free cleaning agent
Suitable for ages 3+