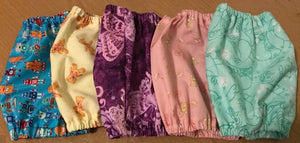 Snoods - custom made
Snoods are great for long eared dogs. 
They hold the ears back from dangling in the dogs food bowl and from accidentally getting chewed.  Plus stale food on the ears will not only smell but will attract flies.

Our Snoods are washable and the elastic used is enclosed to cannot catch on the coat.  It gives a gentle wide stretch opening and lays flat. 
Snoods are very easy to put on - you just bunch up both ends together and gently slide over the head. 
Do not leave on whilst dog is unattended.
Please put in the notes section what colours you like or don't like and if its for a male or female (so I dont make pretty purple flowers for a boy, unless thats what you want of course).
Sizes -
Small - approx 16-18 cm long, 23 cm opening (unextended) - suits small dogs / baby puppies
Medium - approx 24 cm long, 28 cm opening (unextended) 
Large - approx 27 cm long, 35 cm opening (unextended) - suits adult Cocker Spaniel
XLarge - 35 cm long, 43 cm opening (unextended) - suit Springer, Irish