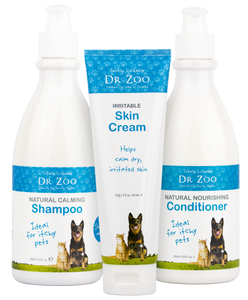 Dr Zoo Ditch The Itch Pack
Our 3 most popular products in 1 pack to help your furry friend ditch the itch! You'll have their tails wagging with relief and happiness in no time.
This pack includes:
Natural Calming Shampoo 500ml
* Made using a combination of five gentle Coconut and Glucose based cleansers rather than just one detergent (SLS) which can irritate skin.
* The formula also includes nourishing ingredients such as Aloe Vera and Colloidal Rice Bran to help soothe and calm the skin.
* SLS and phthalate free
Natural Nourishing Conditioner 500ml
* Formulated with natural edible oils that both moisturise the skin and condition the coat.
* It contains Jojoba Oil, which is not only a great fur moisturiser but it is also a light, natural oil that won't weigh down the coat.
* Silicone free
* Paraben free
Irritable Skin Cream 120g
* Designed to help soothe irritated, itchy skin using edible oils and other healing ingredients such as Aloe Vera, Chamomile and Colloidal Rice Bran, which are well known calming ingredients.
* The cream is ideal for applying to pet's itchy areas.
* Anti-fungal and anti-inflammatory ingredients
* Free from harsh chemicals, cortisone and steroids
* PLUS All products are Totally lickable!!