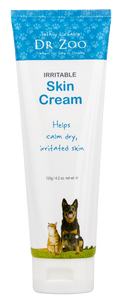 Dr Zoo Irritable Skin Cream
* Designed to help soothe irritated, itchy skin using edible oils and other healing ingredients such as Aloe Vera, Chamomile and Colloidal Rice Bran, which are well known calming ingredients.
* The cream is ideal for applying to pet's itchy areas.
* Anti-fungal and anti-inflammatory ingredients
* Free from harsh chemicals, cortisone and steroids
* Size 120 g
* Totally lickable!!