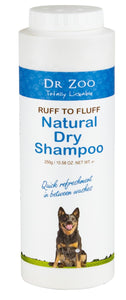 Dr Zoo Ruff to Fluff Natural Dry Shampoo
A powder formula designed to freshen up your pet in between wet washes by absorbing oils, odours and dirt.
Contains a phthalate free, low irritant fragrant oil.
Also includes Allantoin and Collioidal Silver Bran which are great ingredients for pets with sensitive skin.
* Talc free
* Pro-Vitamin B5 added
* Size 250 g
* Totally lickable!!