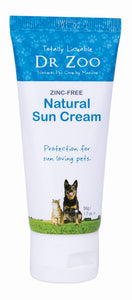 Dr Zoo Zinc Free Natural Sun Cream
This natural zinc free sun cream can be used on dogs, cats and horses that are exposed to the sun.
Made of edible oils along with Titanium Dioxide to provide sun protection, as an alternative to Zinc, which is toxic for pets when consumed in large quantities.
* SPF 15
* Zinc Free
* Size 50 g
* Totally lickable!!