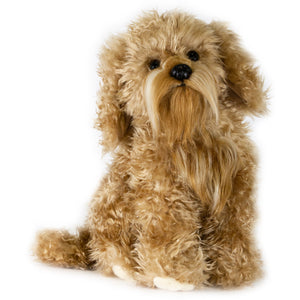 Plush Toys - Gilbert
Gilbert is a really cute red Oodle, Poodle mix cross-breed plush toy.  He is a realistic handmade cuddly Cavoodle soft toy.
Oodles are a poodle mix crossbreed dog. They are a low-shedding dog and therefore many allergy and asthma sufferers find them suitable to live with. They are a super cute and wonderful family dog and loves lots of attention, games and being taken out for walks.
Gilbert measures 30cm/12″ in height (including his ears), 20cm/8″ in length, and 15cm/6″ in width.
Excellent unique gift idea for the lover of the Oodles – Labradoodle, Goldendoodle, Cockapoo, Maltipoo, Cavapoo, Bernedoodle, Aussiedoodle, Sheepadoodle, Shih-poo
Preferred alternative to companion robotic pets to comfort lonely seniors, aged-care residents and Dementia patients being fully machine-washable, soft enough all over to be cuddled in bed and so much more affordable.
Transitional therapy lovey toy
Can be converted to a weighted toy or a graduation teddy
Ethically manufactured sustainable toy
Custom and corporate branding
Lifelike replacement for a pet that has been lost
Substitute emotional support animal providing comfort for people suffering from stress, anxiety, depression, PTSD, Autism and other mental health challenges.
Made using the highest quality acrylic fur
Made using 100% recycled stuffing
Eco-friendly
Ocean-conscious
Machine washable using chemical/soap-free cleaning agent
Great mascot or corporate gift
Can be brushed using a regular pet brush