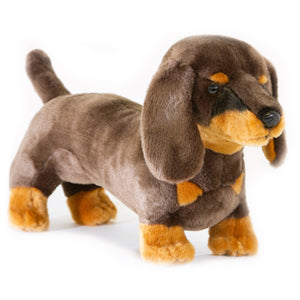 Plush Toys - Stretch
Stretch is a realistic plush chocolate and tan Dachshund dog toy in a standing position.
Dachshunds were bred 300 years ago in Germany to hunt badgers. The name Dachshund literally means "badger" (dachs) and "dog" (hund).  They are also called Weiner or Sausage Dogs and the actual hot dog was named after them.  The first Olympic Mascot was a Daschund.
Stretch measures 22cm/8.7″ in height 37cm/14.6″ in length and 13cm/5.1″ in width.
Excellent unique gift idea
Preferred alternative to companion robotic pets to comfort lonely seniors, aged-care residents and Dementia patients being fully machine-washable, soft enough all over to be cuddled in bed and so much more affordable.
Transitional therapy lovey toy
Can be converted to a weighted toy or a graduation teddy
Ethically manufactured sustainable toy
Custom and corporate branding
Lifelike replacement for a pet that has been lost
Substitute emotional support animal providing comfort for people suffering from stress, anxiety, depression, PTSD, Autism and other mental health challenges.
Made using the highest quality acrylic fur
Made using 100% recycled stuffing
Eco-friendly
Ocean-conscious
Machine washable using chemical/soap-free cleaning agent
Great mascot or corporate gift
Suitable for ages 3+