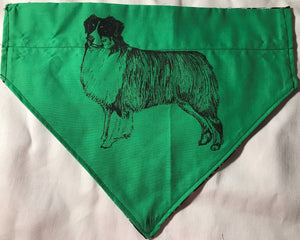 Bandanas - Aussie Shepherd
Doggy Bandanas - set a fashion statement with your dog.
Our Bandanas are designed to slide over your pets collar.    They are fully reversible and made with washable material.
 Large:        26.5 cm W x 22.5 cm L | Collar Width:  3-3.5 cm (1" to 1 1/4") - $10.00 ea
***** EXTRA:  Personalise your bandana with your dogs name, kennel name, club logo, grooming salon, rescue group or even any other words you would like  *****

Go to - Bandana - Add Personalisation - and add to the cart.