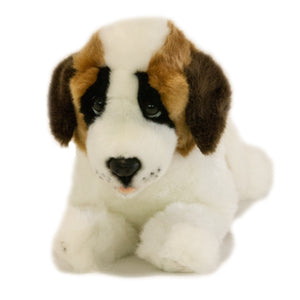 Plush Toys - Mozart
Mozart is a realistic handmade St. Bernard dog plush soft toy in a lying position and is super cuddly.  Groom him with a regular pet brush and give him a good shake to keep him soft and fluffy.
We are huge, strong, gentle and intelligent dogs that were brought to the Alps by the Romans. We were originally known as Alpine Mountain Dogs or Alpine Cattle Dogs.  We are easy to train and should not be overfed nor over exercised.
Mozart measures 41cm/16.1″ in length, 15cm/5.9″ in width or 20cm/7.8″ in height.
Excellent unique gift idea
Preferred alternative to companion robotic pets to comfort lonely seniors, aged-care residents and Dementia patients being fully machine-washable, soft enough all over to be cuddled in bed and so much more affordable.
Transitional therapy lovey toy
Can be converted to a weighted toy or a graduation teddy
Ethically manufactured sustainable toy
Custom and corporate branding
Lifelike replacement for a pet that has been lost
Substitute emotional support animal providing comfort for people suffering from stress, anxiety, depression, PTSD, Autism and other mental health challenges.
Made using the highest quality acrylic fur
Made using 100% recycled stuffing
Eco-friendly
Ocean-conscious
Machine washable using chemical/soap-free cleaning agent
Great mascot or corporate gift
Can be brushed using a regular pet brush
Suitable for ages 3+