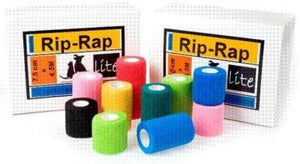 Rip Rap Lite Self Adhesive Bandage
* Self-adhesive wrap for even, consistent compression in retaining dressings, protecting wounds, immobilizing injuries or securing devices to patients.
* Adheres to itself only, no pins/clips required.
* Soft porous fabric provides breathability and patient comfort.
* Tears easily from the roll, no scissors required.
* Water resistant, sweat/water will not cause loosening.
* Also great for wrapping long ears to keep them clean and dry ready for a dog show
* Size - 10 cm wide x 4.5 m (stretched)
* Multiple colours to choose from